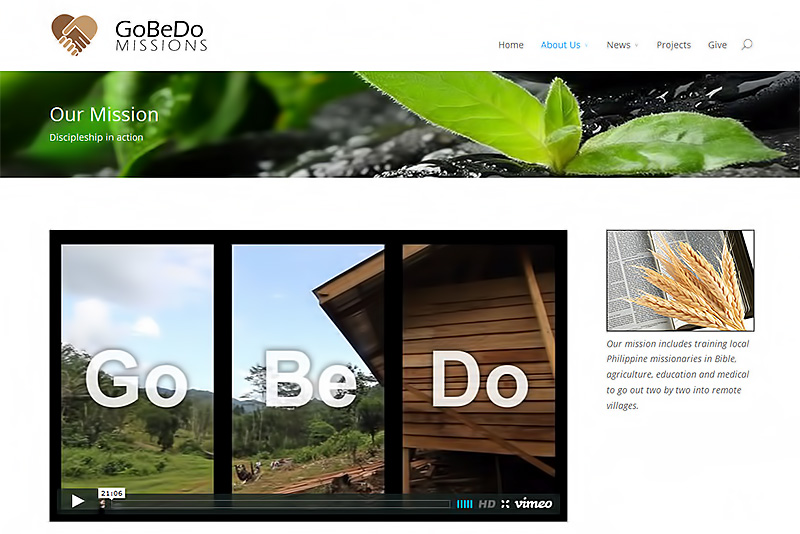 Welcome to the newly designed web site. As you may know, our past site was somehow taken down. Although no credit cards or personal information was compromised in any way, it was a very big setback. We have lost years of stories and miracles in the experience, but we are praising God today for helping us through a couple of great guys in getting the website back up and running, and also for the extra steps that have gone into making this a much more secure window to the mission.
We are asking each of you to pray for us. As we are working in more and more critical areas than in the past in proclaiming the three angels message, we are going to have to be more careful in what and how we share the mission in the future. At present we are facing giants that only God above can help us to defeat as we continue to move forward in the quest to proclaim the message of hope to a lost world.
Please feel free to drop us a line and become a prayer partner with us. Some have no money to give but they do have time and faith to pray. Although we do need funds to operate and to continue moving forward, we honestly believe it has been the prayers of the saints that have kept this ministry alive all these years.
May each of you be blessed and be convicted to do your part in these last days of earth's history in teaching and showing Gods loving character to the world around us. Don't you know? That's the reason you are here! Amen. "Both to will and to do of His good pleasure" (Philippians 2:13).
If your church doesn't have a mission project, please consider adopting us as part of your family.
Home missions vs. foreign missions
Consider these words from the pen of inspiration:
"The home missionary work will be farther advanced in every way when a more liberal, self-denying, self-sacrificing spirit is manifested for the prosperity of foreign missions; for the prosperity of the home work depends largely, under God, upon the reflex influence of the evangelical work done in countries afar off. It is in working actively to supply the necessities of the cause of God that we bring our souls in touch with the Source of all power" (Testimonies, vol. 6, p. 27).
"An American business man, who was an earnest Christian, in conversation with a fellow worker, remarked that he himself worked for Christ twenty-four hours of the day. 'In all my business relations,' he said, 'I try to represent my Master. As I have opportunity, I try to win others to Him. All day I am working for Christ. And at night, while I sleep, I have a man working for Him in China.' In explanation, he added: 'In my youth I determined to go as a missionary to the heathen. But on the death of my father I had to take up his business in order to provide for the family. Now, instead of going myself, I support a missionary. In such a town of such a province of China, my worker is stationed. And so, even while I sleep, I am, through my representative, still working for Christ' " (ChS, 170.4).
"Are there not God's saints today who will do likewise? Instead of keeping the ministers at work for the churches that already know the truth, let the members of the churches say to these laborers: 'Go work for souls that are perishing in darkness. We ourselves will carry forward the services of the church. We will keep up the meetings, and, by abiding in Christ, will maintain spiritual life. We will work for souls that are about us, and we will send our prayers and our gifts to sustain the laborers in more needy and destitute fields' " (Testimonies, vol. 6, pp. 29, 30).